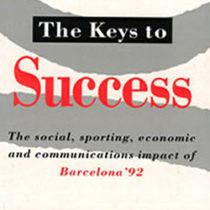 The Keys to success: the social, sporting, economic and communications impact of Barcelona'92
Miquel de Moragas; Miquel Botella (eds.)
1995
Barcelona is a city of sport. And of culture. An of civility. And of much more than we have been able to bring to the foreground thanks to the impulse of the 1992 Olympic Games, the engine of the transformation that the city has undergone.
Words of Pasqual Maragall from the book's presentation.
The Keys of Success: The Social, Sporting, Economic and Communications Impact of Barcelona'92 is a collection of 16 articles which analyze the sporting, social, political communicative, urban, technological and economic impacts of the 1992 Barcelona Olympic Games.
With the distance that years after the Games allows these articles examine more carefully and precisely the consequences of the Games and establish the fundamental traits that characterize Games that can be defined and remembered for their success in a number of areas: in popular participation, the sports results, and the urban transformation of the city, due to an investment policy thought in terms of social benefit.
This book, coordinated by Miquel de Moragas and Miquel Botella, is a product of the initiative of the Centre for Olympic and Sport Studies of the Autonomous University of Barcelona, with the cooperation of the Olympic Museum Lausanne and the Barcelona Olympic Foundation."
Amongst the authors: Josep Miquel Abad, Enric Truñó, Fidel Sust, Manuel Llanos, Lluís Millet, Miquel Botella, Ferran Pastor, Jordi López, Andreu Clapés, Josep Bertran, Miquel de Moragas, Joan Botella, Faustino Miguélez, Ferran Brunet, Fernand Landry, John MacAloon, Nancy Rivenburgh, Muriel Ladrón de Guevara, Pilar Carrasquer, Núria García, Xavier Cóller, Daniel Romaní and Dolors Aparicio.
The book was published in Catalan (1995), English (1995) and Spanish (1995). The Spanish edition was supported by the Spanish Olympic Committee.