University lectures in the Olympics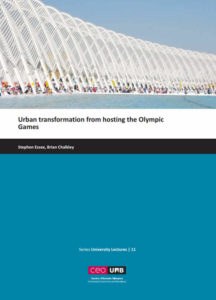 In year 2002, CEO-UAB launched an online educative project partly aimed at university students and scholars and/ or people interested in Olympism and the Olympic Movement in general. The project resulted in the creation of a series of basic texts and lectures about major themes of an Olympic interest.
Texts are written by experts in the field and openly available on-line. The lessons are designed to be composed of a divulgative text, a related bibliography and resources about each theme.
List of lectures available at DDD (

UAB Digital Document

Repository

)
The Olympic Movement
 Games management
Athletes
Communication
Education and olympic values
Economics
Urban planning and enviroment
Paralympic Games