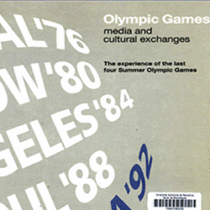 Olympic Games, media and cultural exchanges: the experience of the last four summer Olympic Games: international symposium, Palau de Pedralbes, Barcelona, April 3-5 1991
1992
This book is a compilation of papers presented at the Symposium on Olympic Games, Communication and Cultural Exchanges: the experience of the last four Olympic Summer Games, organised by the CEO-UAB in 1991.
The themes analysed are media planning for the Olympic Games, Cultural Olympiad proposals, and the cultural proposals and content of the opening and closing ceremonies of the Barcelona'92 Olympic Games. It also analyses the impact of the Olympic Games on sport and social sporting habits, and sports administration policies.
The political consequences for the Olympic Games host city were also considered at the symposium, from organisational, general and international political perspectives. The book emphasises the importance of the production of symbols, particularly the graphic design and product design aspects.
The book was published in Catalan and English.