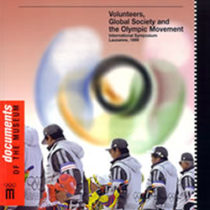 Volunteers, global society and the Olympic Movement: International Symposium Lausanne. 24th, 25th and 26th November 1999
Miquel de Moragas Spà; Nuria Puig; Ana Belen Moreno (eds.)
2000
The book is a compilation of papers presented at the symposium organised by the International Chair in Olympism (IOC-UAB) and the Olympic Museum Lausanne, held in Lausanne from 24 to 26 November 1999.
The symposium was organised around three major thematic areas. The first thematic area defines and contextualises the volunteering phenomenon. It refers to it as a social phenomenon and analyses new forms of participation, social commitment, solidarity and democratic involvement in modern society.
The second part of the book deals with the experiences and leadership role of volunteers in the history of the Olympic Games. Finally, the experiences of volunteers at the Olympic Games and other sporting mega events are described.
Some of the aspects covered are volunteer recruitment and training, and the day-day-organisation of Olympic volunteers in three settings or scenarios: Olympic Villages, stadiums and sports facilities, and Olympic family services.