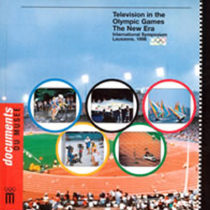 Television in the Olympic Games: the new era: International Symposium, Lausanne, 19th-20th October 1998
1999
The book is a compilation of papers presented at the Symposium on Television in the Olympic Games organised by the IOC Radio and Television Commission in collaboration with the Olympic Museum Lausanne and the International Chair in Olympism (IOC-UAB), held in Lausanne from 19 to 20 October 1998.
The book focuses on television in the Olympic Games and covers the historical evolution of the relationship between television and the Olympic Games and its broad influence. It is divided into three thematic areas.
The first area offers a historical overview of radio and television coverage the Olympic Games and the technological evolution of Olympic broadcasting since it first began. The second area focuses on state-of-the-art Olympic broadcasting and contains specific experiences. And the third area reflects on challenges and future opportunities, particularly new audiovisual formats and the Internet.