Networking in Olympic Studies: current situation and proposals for development and cooperation
The Department of Information Management of the International Olympic Committee (IOC) commissioned CEO-UAB to develop a study about Olympic Studies on a global scale to analyse the opportunity for the IOC to promote an international network in Olympic Studies. The project was undertaken in 2004-2005.
The final purpose of this network is to enhance knowledge about the evolution of the Olympic Movement and to increase the dissemination of the Olympic values through improved communication and collaboration between organisations and individuals involved in Olympic studies.
The main goals of the UAB's study were to identify actors and opportunities for the development of Olympic Studies within the network and to make recommendations as to the strategic and practical management of this network to maximize its effectiveness in promoting cooperation.
The methodology adopted combined primary and secondary data collection and analysis. The main data sources included organisational publications and documents, as well as existing academic research. Leading actors in Olympic Studies were contacted to obtain primary data as well as a more strategic perspective, including the IOC Research Council members. Results were divided into two main parts:
Olympic Studies actors
IOC Olympic Studies Centre
University-based institutional initiatives
IOA and National Olympic Academies
OCOGs and hosting organisations
Individual experts
Scientific and professional associations
Libraries and information services
Olympic Studies activities
Research projects and areas of interest
University-based teaching and training programmes
Olympic Education programmes
Conferences, congresses and symposia
Publications
Information and documentation products
Olympism on the Internet
Executive summary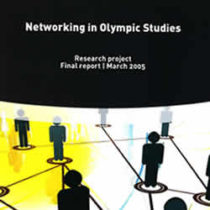 Moragas Spà, Miquel de; Kennett, Chris; Cerezuela, Berta; García Sedó, Ramón; Puig Lobató, Josep M.
2005
Centre d'Estudis Olímpics i de l'Esport de la UAB
Executive report of the research project commissioned by the Department of Information Management of the International Olympic Committee (IOC) to CEO-UAB to develop a study …
Info