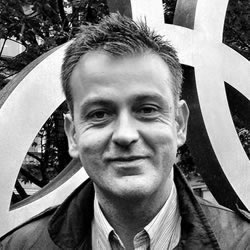 Emilio Fernández Peña
CEO-UAB Director
Dr Emilio Fernández Peña has been Professor of Communication and director of the Centre d'Estudis Olímpics i de l'Esport at the Universitat Autònoma of Barcelona since 2009. He is currently directing The Olympic Games and the Media MOOC course on the Coursera platform, which has so far more than 13,000 students enrolled from 143 different countries. He is the main researcher of the project Social Networks and Soccer: Violence, Public Participation, and the Ecology of Communication funded by the Ministry of Economy and Competitiveness (Spanish Research Foundation) (2016-2019). Dr Fernández is the founding director of the Sport Communication Lab; a research centre created by the Universitat Autònoma of Barcelona and Barcelona Football Club and is, in turn, director of the Master in Communication Management and Sponsorship in Sporting Organizations. He has been advisor to and was responsible for part of the permanent exhibition on television in the new Olympic Museum, 2014, of the International Olympic Committee in Lausanne, Switzerland.
Specifically related to social media, Dr Fernández Peña is the creator of the Social Media and Global Sport Observatory, a platform for the analysis of strategies and flow of content publication of the major competitions, teams, and athletes in global sport (http://www.socialmediasport.org/). He has also been guest professor or lecturer at the University of Southern California (Annemberg School for Communication), University of Athens, University of Beijing, Université de Paris 3, Universidade Gama Filho y Pontificia, Universidade Católica de Rio Grande do Sul (Brazil), International Russian Olympic University, Universidad de Bolonia, and the International Olympic Academy (Greece), among others. Emilio Fernández is Chief Editor of the magazine Diagoras: International Academic Journal on Olympic Studies (http://www.diagorasjournal.com/). He is the author of more than 50 articles, books, and academic chapters. Included among his latest publications are:
Emilio Fernández Peña (2016) Televisión, Social Media y Juegos Olímpicos (Television, Social Media and the Olympic Games). UOC Press: Barcelona. 253 pages
Emilio Fernández Peña, Òscar Coromina, Pardo Gila, J. M. (2017). The nature of engagement on Facebook during the London 2012 Olympic Games: An insight into the public's participation in terms of language and gender. South African Journal for Research in Sport, Physical Education and Recreation, 39(1:2), 135 – 45
Emilio Fernández Peña and José Manuel Pardo Gila (2017). "Olympic TV Rights Evolution and Management", in Olympic & Paralympic Discources / Olympische und Paralympische Diskurse, ed. Christian Wacker, Stephan Wassong and Natalia Camps Y Wilant (pp. 217-235). Kassel: Agon.
Emilio Fernández Peña, Natividad Ramajo, and Maria Arauz (2014) "Social Media in the Olympic Games: Actores, management and participation" in Andrew C. Billings and Marie Hardin, Routledge Handbook of Sport and New Media, pp. 153-164
Emilio Fernández Peña, Natividad Ramajo, Berta Cerezuela, and Jose Manuel Pardo Gila, J. M. (2017).Olympic education in Spain as a multi-facet enterprise. En: R. Naul, D. Binder, A. Rychtecky, i I. Culpan (Eds.), Olympic Education: An international review (pp. 265 – 280). London: Routledge.
Emilio Fernández Peña and Miquel de Moragas (2012) "Spain: Media Focus on Geopolitical Issues of a Major Sporting Event" in Luo Qing and Giuseppe Richeri (Editors). Encoding the Olympics: Beijing Olympic Games and the Communication Impact Worldwide pp 97-105. London: Routledge
Emilio Fernández Peña, Miquel de Moragas, Ibone Lallana and Anna Rezende (2012) "Spain: The Power of a Mega Event which Eclipses Criticism" In Luo Qing and Giuseppe Richeri (Editors). Encoding the Olympics: Beijing Olympic Games and the Communication Impact Worldwide. pp. 230-270. London: Routledge