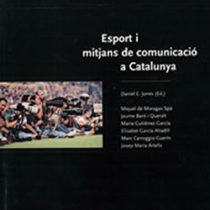 Esports i mitjans de comunicació a Catalunya
Daniel E. Jones
1996
Esport i mitjans de comunicació a Catalunya is the result of research undertaken by a Catalan group of investigators that specialises in analysing the growing role of sport in the media and vice versa.
The relationship between sport and the media system in Catalonia is very similar to the rest of western Europe, and particularly to southern European countries. The sporting press is quite consolidated and there is a growing number of radio and television sports programmes and broadcasts. Consequently, over the last decade, sports spectacles and information have taken on a more important role in the Catalan social communication system as a whole.
The publication offers a thorough review of the three main media – press, radio and television – and the growing role of advertising and sponsorship in sport. The objectives of the project are: to contextualise sports content in the contemporary media system; historical background and development; to establish the current structure of the main media – press, radio and television – in the media system, and the characteristic features of those specialising in sport; even though earlier periods are considered, the analysis focuses particularly on the 1980s and 1990s from mainly economic, social and political viewpoints, and; besides taking account of the international scene, special attention is paid to the Spanish and European context, with the general evolution and characteristic features of the situation in Catalonia being analysed in detail.
Coordinated by Daniel E. Jones, this book is the result of a joint Catalan Communication Research Centre (CEDIC) and CEO-UAB initiative, in collaboration with the Secretariat for Sports of the Government of Catalonia.