The book Barcelona, ciutat de l'esport. 25è aniversari dels Jocs Olímpics i Paralímpics de Barcelona 1992 was released on Wednesday 17 October 2018. The presentation took place at the Olympic and Sports Museum at 6:30 p.m.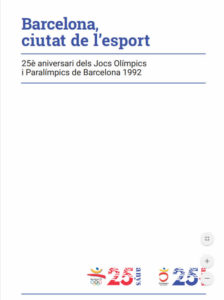 The book has been published on the occasion of the 25th anniversary of the Barcelona'92 Olympic Games and Paralympics, celebrated in 2017. It aims to show what represented the Olympic and Paralympic Games for the city of Barcelona and what changes have resulted in both the city ​​as in citizens' everyday life. More information on the book and related activities at the website of the Institut Barcelona Esports.
CEO-UAB has been involved in the publication of the book, as part of the editorial coordination, by Miquel Gómez Benosa, and contributing with an article on the immaterial legacy of the Games written by Berta Cerezuela together with Juli Pernas. The book also includes a chapter on the sustainability of the Games, topic of Alberto Aragon's doctoral thesis, doctoral candidate at CEO-UAB.